[ad_1]

Boring bar applications are very popular in the lathe machining industry, as they provide a shop with extreme diversity and accuracy. Running a boring bar properly, however, is essential to ensuring you're maximizing shop efficiency and achieving outstanding part finish. There are many mistakes that can be made when running boring bars and many that cause excessive machining vibrations or chatter that must be avoided. Learn the five mistakes that could be causing tool chatter in your boring applications and how you can stop chatter once and for all.
Boring Bar Application Mistake 1: Using a Dull Cutter
Boring with a worn-out tool significantly increases cutting forces generated by the cut, leading to chatter. The more a tool is run, the more chance it has for galling, or in other words, built-up edge (BUE), making it imperative to inspect your boring bar before each application. Stocking your tool crib with great quality boring bars can help reduce BUE by providing a sharp, long lasting cutting edge, catered for your exact application. Learn other ways to reduce BUE in your turning applications, today.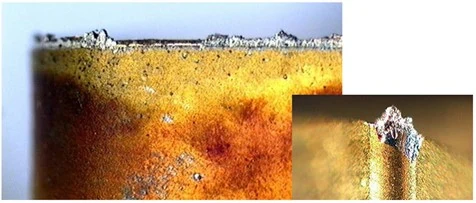 Boring Bar Application Mistake 2: Utilizing Incorrect Speeds & Feeds
Like many applications, using improper speeds & feeds can lead to poor performance. In boring applications, using too high of a chip load can cause deflection, greatly increasing the chances of tool failure. Using too low of a chip load doesn't allow the tool to cut enough, which causes the tool to bounce off the material, leading to increased tool wear and poor part finish. When running a boring bar, it is imperative to use the speeds & feeds recommended for the tool being used. Micro 100 provides downloadable and printer-friendly Speeds & Feeds for all Standard and Quick Change Micro-Quik turning tools.
Boring Bar Application Mistake 3: Lacking Workpiece Support
A main cause of chatter in boring applications is lack of support on the workpiece. If a workpiece is not properly supported when entering a boring application, the tool will begin to chatter. Not only is it essential to confirm the proper workholding device is being used, but it's also important to ensure that your setup is as rigid as possible. Learn more about workholding styles and considerations to make sure you're supporting your workpiece properly in your next boring application.
Similarly, tool holding also plays a vital role in the performance of a boring bar application. It is important to select a tool holder that accommodates the tooling being used and is as rigid as possible. Many machinists opt for tools that promote machining efficiency by boosting the speed at which tool changes occur. For example cutting tool manufacturer Micro 100 offers Micro-Quik Holders, which offer unmatched rigidity, axial and radial repeatability, tip-to-tip consistency, and part-to-part accuracy in tool changes totaling fewer than 30 seconds.
Boring Bar Application Mistake 4: Drilling an Improper Starter Hole
Before starting a boring application, drilling the proper hole is vital to ensuring that the boring bar has sufficient contact with the workpiece to properly stabilize the cut. If a hole is too large, the boring bar could deflect off of the workpiece. If the hole is too small, there will not be enough clearance for the tool, increasing chances of tool wear and possibly tool failure. When selecting a drill to prepare the workpiece for your boring applications, there are two dimensions that should be considered: the Head Width and the Minimum Bore Diameter.

The Head Width, or "H" value on the above line drawing, is the actual width of the boring tool. The Minimum Bore Diameter is a calculated dimension slightly larger in size compared to the head with that is associated with the smallest drill size that should be used to start a boring application. It is recommended to opt for a drill that is the same or slightly larger than the Minimum Bore Diameter of the boring bar being used, to ensure there is proper clearance for the cutting edge.
Boring Bar Application Mistake 5: Utilizing an Inefficient Coolant Strategy
If coolant isn't aimed properly on the workpiece or if improper coolant is being used, tool life and quality part finish can be significantly reduced. If coolant lines are aimed directly at the bore, the pressure of the coolant holds the chips in the bore, causing them to evacuate improperly. This then causes the chips to be cut again, leading to chatter and finish problems. Opting for a Plumbed and Ported Tool Holder can mitigate this problem, ensuring chips are being properly evacuated out of the cut.


[ad_2]

Source link